Adobe Photoshop Extended CS6 for Mac
GETKEYNOW provides you with 100% Genuine Software and Experienced Staff to help you complete the installation process. We promise that when you buy the product, the Genuine Software will install successfully on your computer and we will refund for you if the software cannot be installed or cannot activate the copyright on your device.

You'll get DIGITAL PRODUCT on your email with a License Key and Link Download . Please make sure that your email address is correct. If you can't find the email within 1 hours, please contact our customer support at info@getkeynow.com
Compare
Buy Adobe Photoshop Extended CS6 for Mac Discount from getkeynow.com In Canada:
It's simple to receive products via email: These are digital retail products  which will be delivered via email.

Activate once, use forever: You can use it to install your computer and activate the license forever.

Pay easily with Paypal or Credit card

Simple to install and activate.

Experienced IT support 24/7.

Sales off 90%.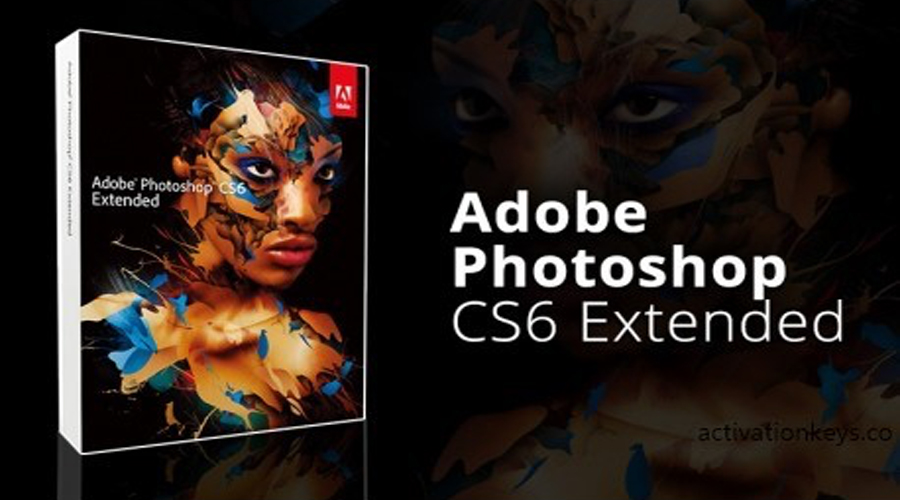 Adobe Photoshop Extended CS6 for Mac is the industry-standard tool for professional digital image editing. Greatly expanded for this CS6 version, the software's tool set now includes a much larger array of 3D tools that let you create 3D artwork using in-context, on-canvas controls for extrusions, editing lights, and more.
Photoshop Extended uses a powerful layer-based approach for image editing. Using layers allows you to make adjustments to images without modifying aspects of an original. You can modify layer opacity and order, aiding in compositing tasks. Photoshop keeps track of each change you make to an image, allowing you to undo actions with ease. With CS6 you can now search layers, and use layers to modify vector graphics (adding gradients, for instance) in the same ways you use layers with photographic imagery.
Image editing is now accelerated by the Mercury Graphics Engine, which leverages technology from the playback engine that drives the video-editing application Premiere Pro. The Mercury Graphics Engine of Photoshop Extended CS6 powers the blur gallery, the crop tool, 3D rendering, and the Lighting Effects Gallery. Other performance enhancements include background saving, which allows you to continue working while large files are being saved, and auto-recovery, which automatically saves your work every 10 minutes to safeguard it against any system crashes.
Of course Photoshop Extended CS6 includes all the familiar features that you've come to expect from this ubiquitous program, including HDR image creation, color-correction tools, support for a broad range of file types including RAW images, and 2D & 3D compositing. Tightly integrated with Adobe Lightroom, Photoshop Extended is a must-have program for any serious photographer, designer, or digital artist.
New for CS6
Content-Aware Patch
Patch images with greater control using Content-Aware Patch. Simply choose the patch area and Content-Aware technology will fill in the missing area
Mercury Graphics Engine
See near-instant results when editing with key tools such as Liquify, Puppet Warp, and Crop. The Mercury Graphics Engine delivers unprecedented responsiveness for a fluid feel as you work
3D Controls at Your Fingertips
Intuitively create 3D artwork with a vastly simplified user interface that eliminates the need for tools. Use in-context, on-canvas controls to manipulate cages for 3D extrusions, change scene and object orientation, and edit lights
Reengineered Design Tools
Create superior designs faster. Get consistent formatting with type styles, use vector layers to apply strokes and add gradients to vector objects, easily create custom strokes and dashed lines, quickly search layers, and more
Crop Tool
Crop images faster and with greater precision using the nondestructive Crop tool. Manipulate your images on canvas, and take advantage of the Mercury Graphics Engine to see your adjustments happen live
Reflections & Draggable Shadows
Quickly achieve 3D realism by adding and enhancing shadows and reflections on your ground plane. Drag a shadow to reposition the light source, and easily edit ground reflections, shadows, and other effects
Background Save
Keep on working even while saving the largest of Photoshop files in the background – a performance improvement that can help your productivity soar
Auto-Recovery
Let the auto-recovery option work behind the scenes to save your edits without interrupting your progress. A copy of your work is saved every 10 minutes and recovered in the event of an unexpected shutdown
Easy Alignment & Distribution of 3D Objects
Create rich 3D scenes in less time now that you can automatically align 3D objects to the vanishing point in your image and manipulate a group of 3D objects at one time using a multi-select option
3D Performance Boost
Experience enhanced performance throughout your 3D workflows. View shadows and reflections in all editing modes; quickly render final work in Adobe RayTrace mode thanks to the Mercury Graphics Engine; and much more
Intuitive Video Creation
Bring Photoshop editing power to your video footage. Easily enhance any clip using the full range of familiar Photoshop tools, and create entire videos using an intuitive set of video tools
Preset Migration & Sharing
Easily migrate your presets, workspaces, preferences, and settings so you can experience Photoshop in the same way on all your computers, share your setup, and bring your customizations from past versions into Photoshop CS6
Blur Gallery
Quickly create photographic blur effects using a simple interface with on-image controls. Create tilt-shift effects, blur everything and then sharpen one focal point, or vary the blurriness between multiple focal points. The Mercury Graphics Engine delivers immediate results
Improved Auto-Corrections
Quickly enhance your images with improved Auto Curves, Levels, and Brightness/Contrast controls. Intelligence from thousands of hand-retouched images is built-in to give you a better starting point for making adjustments
Adobe Photoshop Camera Raw 7 Plug-In
Bring out the best in your JPEG and Raw files with improved processing and an enhanced control set; reveal every detail in the highlights of an image while still retaining rich detail in the shadows; and much more
Adaptive Wide Angle
Easily straighten objects that appear curved in panoramas or photos shot with fisheye or wide-angle lenses. On-canvas tools use the physical characteristics of individual lenses to automatically correct curvatures, and the Mercury Graphics Engine gives you near-instant results
Dozens of User-Inspired Improvements
Save time with more than 65 creativity and productivity enhancements that originated as suggestions from Photoshop users
Modern Interface
Work with a fresh, elegant Photoshop interface featuring dark background options that make your images pop, and benefit from hundreds of design touches that create a smoother, more consistent editing experience
Skin Tone-Aware Selections & Masking
Create better selections and masks with an option that isolates skin tones and faces in your photos, enabling you to adjust skin tones easily or, conversely, preserve them while you adjust the color of everything else
Compatibility with Adobe Mobile Apps
Extend your creativity beyond Photoshop CS6 with Adobe Touch Apps and Photoshop companion apps (sold separately). Intuitive touchscreen features provide ease of use and precise control for a variety of creative tasks
Flexible Render Modes for Shadows
Work more fluidly now that you can preview shadows in both GL and Adobe RayTrace render modes
Accurate 3D Object Merge
Accurately merge multiple 3D objects in a single scene so they can interact with the same lighting and cameras
Alternate Views
Easily view your 3D artwork from multiple angles while editing
Enhanced 3D Animation
Animate all 3D properties – including cameras, lights, materials, and meshes – using the Animation timeline. Final rendering performance is now much improved during export of your 3D animation
3D Stereo Viewing & Printing
Easily import common stereo formats, such as JPS and MPO, into the 3D pipeline, and make simple adjustments to set depth and range. View a stereo image on stereo monitors or TVs, or print it as a lenticular 3D image
Adobe Flash Professional 3D Export
Easily export 3D artwork in Adobe Flash Professional 3D format for viewing in web browsers. Also export 3D artwork assets for use in Adobe Flash Builder software
3D Sketch & Cartoon Presets
Click once to give your 3D objects the look of sketches or cartoons, and automatically create sketch presets by creating any brush stroke
Improved 3D Extrusion Engine
Create stunning 3D logos and artwork from any text layer, selection, path, or layer mask with the improved 3D extrusion engine, which offers faster editing, on-canvas controls, and better beveling options
Type Styles
Save time and ensure a consistent look with type styles, which let you apply formatting to selected characters, lines, or paragraphs of text with a single click
Vector Layers
Use vector layers to apply strokes and even add gradients to vector objects
Sharper Vector Rendering
Get sharper rendering by clicking once to snap the edges of vector objects to pixels
Custom Strokes & Dashed Lines
Easily create custom strokes and dashed lines
Layer Search
Use layer search capabilities to quickly zero in on the layer you need
Lighting Effects Gallery
Get better performance and results with the 64-bit Lighting Effects Gallery. The plug-in is powered by the Mercury Graphics Engine and offers on-canvas controls and previews that make it easier to visualize your lighting enhancements
Scripted Patterns
Generate geometric pattern fills faster with Scripted Patterns
Revolutionary Erodible Brushes
Draw more naturally and realistically using drawing tips that erode as you work. Endlessly wear down and sharpen a charcoal pencil or pastel to create different effects, and save favorite blunted tips as presets
Oil Painting Filter
Quickly give your work the look of an oil painting with the Mercury Graphics Engine-accelerated Oil Painting filter. Control the style of your brush as well as the direction and shine of your lighting for a superior look
Enhanced Airbrush Tips
Create realistic airbrush effects using fluid, lifelike controls and granular paint particles
Painting Presets
Simplify painting with presets that offer a good starting point for creating realistic painting effects
Brush Enhancements
Paint more naturally by manually changing the rotation of your paint brush with your mouse. Dynamically resize your brushes with shortcuts, and take advantage of the Mercury Graphics Engine to fluidly adjust opacity or hardness
Support for 3D LUTs
Retouch images for film more easily with 3D lookup tables (LUTs) – including Adobe SpeedGrade .Look color LUTs – that you can turn on when you need to tweak raw color data
OpenEXR Transparency Preferences
Choose whether you'd like to handle alpha channels in OpenEXR files as alpha channels or transparency
Properties Panel
Save time with a context-sensitive Properties panel that lets you make quick updates to the properties of your masks, adjustments, and 3D content
Adobe Bridge CS6
Organize and manage your media visually using Adobe Bridge CS6 software. This integrated application delivers fast performance with cross-platform 64-bit support
Redesigned Adobe Mini Bridge
Access your images and documents more quickly and easily in Adobe Mini Bridge, redesigned as an elegant filmstrip
Enhanced TIFF Support
Work with a larger range of TIFF files. Enhanced TIFF support allows for greater bit depths and larger file sizes
Automatic Resampling
Get great results when resizing an image – the best resample method is automatically selected
Filler Text
Save time with the ability to insert "lorem ipsum" filler text when working with type
Increased Maximum Brush Sizes
Edit and paint with brush sizes all the way up to 5000 pixels
Other Features
Content-Aware Family of Technologies
Retouch images with astonishing ease, control, and precision. Remove or move selected image objects, and Content-Aware technology magically fills, patches, extends, or recomposes your image with stunning results
64-Bit Support
64-bit support speeds up imaging tasks and helps process very large images faster
Tools for Intelligent Selections
Create precise selections and masks, enabling you to easily adjust or preserve skin tones; easily select intricate image elements, such as faces and hair; and more
Puppet Warp
Precisely reposition any image element to create a more visually appealing photo. For example, easily straighten an awkwardly bent arm. Powered by the Mercury Graphics Engine, Puppet Warp lets you edit with fluid responsiveness