Installer Office Home & Business 2013 for Mac
GETKEYNOW provides you with 100% Genuine Software and Experienced Staff to help you complete the installation process. We promise that when you buy the product, the Genuine Software will install successfully on your computer and we will refund for you if the software cannot be installed or cannot activate the copyright on your device.
You'll get DIGITAL PRODUCT on your email with a License Key and Link Download from Microsoft. Please make sure that your email address is correct. If you can't find the email within 1 hours, please contact our customer support at info@getkeynow.com

Compare
Buy genuine Microsoft Office 2013 Home and Business For MAC License Discount from Microsoft Partner In Canada:
It's simple to receive products via email: These are digital retail products from Microsoft partners, which will be delivered via email.

Activate once, use forever: You can use it to install your computer and activate the license forever.

Easy to install and activate from ISO file or direct link from Microsoft.

You do not need to select 32bit or 64bit versions, we will send both to you.

Pay easily with Paypal or Credit card

Simple to install and activate.

Experienced IT support 24/7.

Sales off 90%.
We offer you genuine Microsoft products at the cheapest price because we buy products from Microsoft in huge quantity so we get the best deals. In addition, the product is emailed to help save shipping and packaging costs, reduce production and CD burning costs, etc. Because we want to save maximum costs for our customers and reduce waste to the environment. During use, You still receive the latest free updates and support from Microsoft.
Buy Microsoft Office 2013 Home and Business For MAC from Microsoft Partner In Canada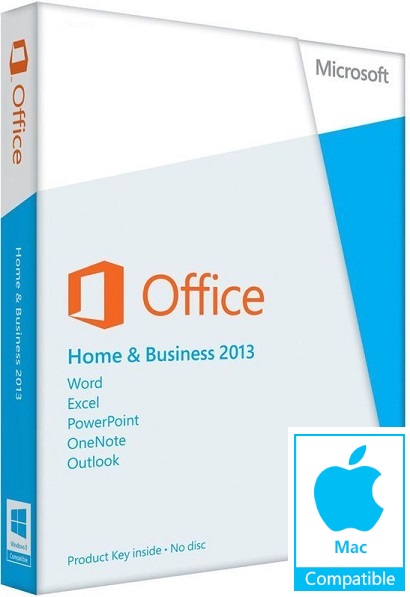 Office Home & Business 2013 is designed to help you create and organize faster with time saving features and a clean, modern look. Plus, you can save your documents in the cloud on SkyDrive and access them when you are not at home.
What's new in this release of Office?
The 2013 versions of familiar Office applications such as Word, Excel, and PowerPoint include new features that help you create, communicate and work efficiently from virtually anywhere. In addition to updating the traditional Office suites, Microsoft has developed brand new subscription versions of Office, specifically designed around the way customers use Office. Each new subscription offer will include the 2013 versions of the Office applications, for example Word, Excel and PowerPoint, plus cloud services such as Skype world minutes and online storage with SkyDrive.
Subscribers will also receive future rights to version upgrades as well as per-use rights across multiple PCs or Macs and select mobile devices.1 Note: The Office applications you can use across PCs, Macs and other devices vary by platform.
1Visit www.office.com/information for a current list of devices. Internet connection required. Internet and mobile telephone usage charges may apply.
What is the difference between the Office 2013 suites and Office 365 plans?
Microsoft Office is still the name Microsoft uses for its familiar productivity software. Office suites have traditionally included applications such as Word, Excel, PowerPoint, and Outlook. All Office 2013 suites include the latest versions of the applications, for use on a single PC.
Microsoft uses the name "Office 365" for products that include cloud services, such as additional SkyDrive online storage, Skype minutes for home use, Lync web conferencing or Exchange Online hosted email for businesses. Cloud services are features that are enabled over the Internet. Most Office 365 plans also include the full-featured Office 2013 applications, which users can install across multiple computers and devices. All Office 365 products, such as Office 365 Home Premium, are paid for on a subscription basis, annually. Active subscribers will receive future rights to version upgrades as a benefit of their subscription. Entitlements vary by product.
What it includes:
Word, Excel, PowerPoint, OneNote, and Outlook.
Office on one PC for household use.
One time purchase for the life of your PC; non-transferrable.
7 GB of online storage in SkyDrive.
Free Office Web Apps1 for accessing, editing, and sharing documents.
An improved user interface optimized for touch, pen, and keyboard.
How do I get my Office software?
Please note: This item does not contain a disc; it is a product key card that requires a download from office.com. See steps involved below:
Once you have placed your order and received your product key card in the mail, locate your product key on the backside of the included card.
When you locate the product key, follow the instructions on the card, and go to https://officesetup.getmicrosoftkey.com/ to download and install.
Enter your 25-digital product key as prompted.
Sign in or create a Microsoft account.
Select your preferred country and language.
From your "My Account" page with Microsoft, select the item that you want to install.
Click the "Install" button to begin your download.
What's new with Office?
Complete Tasks Easily
Experience Office on Windows 8 devices, with an improved user interface optimized for touch, pen, and keyboard.
An improved look and feel reduces distractions for a better reading experience.
The new Start screen gives you a selection of recent documents and templates.
Simple Communication
Get your emails, schedule, and tasks in Outlook.
See your Outlook schedule, an appointment, or details about a contact without changing screens.
Create presentations with widescreen themes in PowerPoint.
Recommended Charts helps you visualize data in Excel.
Microsoft Office Applications
Add pictures, videos, or online media with a simple drag and drop.
Use OneNote to capture and share notes, pictures, web pages, voice memos, and more.
Incorporate content from PDFs into Word documents.
Flash Fill in Excel allows you to format and rearrange your data with tools that recognize patterns and auto complete data with no formulas or macros required.
System Requirements
Computer and Processor: 1 GHz or faster
Memory: 1 GB RAM (32 Bit) /2 GB RAM (64 Bit) recommended for graphics features and certain advanced functionality2
Hard Disk: 3.0 GB of available disk space
Display: 1366 x 768 resolution
Operating System: Mac OS