Microsoft Office 2019 is NOT the version you want to buy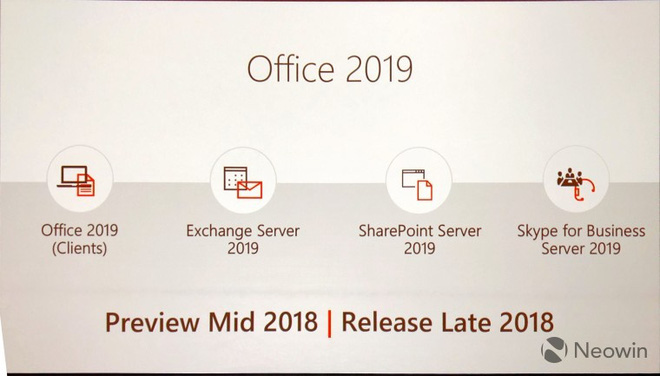 You probably know about this little software program called Microsoft Office. Microsoft estimates that more than 1.2 billion people still use Office on a regular basis. That's one in seven people on earth! To say that Office is quite popular is a huge understatement since it is one key component critical to Microsoft's whole business strategy.
However, a big part of the company's future plans is a tighter integration of its products with its cloud-based services and subscriptions. In fact, Microsoft now boasts around 120 million Office 365 active subscribers and it's projecting that two-thirds of its business Office users will be relying on the cloud by 2019.
But is Microsoft's push for cloud-based services deliberately putting its offline Office users at a disadvantage? With the recent release of Office 2019, it certainly appears like that's the case.
Read on and see why Office 2019 is NOT the version you would want to get.
Office 2019 is limited
The commercial version of Microsoft Office 2019 was released for Windows and Macs this week, but if you're expecting it to be a mirror version of its cloud-based counterpart, Office 365, then you're in for a disappointment.
In case you didn't know, Office 2019 is the latest offline "on-premises" version of Microsoft's productivity suite, which bundles together long-standing favorites like Word, Excel, PowerPoint, Outlook, Project, Visio, Access, and Publisher.
Fun Fact: Microsoft's first Office application was a spreadsheet application called Microsoft Multiplan, released in 1982. The company changed the software's name to Excel when it was launched for the Macintosh in 1985.
While Office 2019 has some of Office 365's features like Learning Tools in Word and Outlook, new Morph and Zoom in Powerpoint, and "Microsoft Ink" improvements, it lacks most of Office 365's best functions.
For one, Office 2019 won't have Microsoft's machine learning capabilities and new search functions. It won't have Office 365's intelligent security features nor real-time document collaboration, either. This is understandable because these features rely on Microsft's cloud servers.
Microsoft also made it clear that Office 2019 is a one-time purchase and will not receive feature updates (it will still get the occasional quality and security updates, though). This means that unlike Office 365, where subscribers always get the latest and greatest features, Office 2019 users will be stuck with whatever application feature sets they have.
Why Office 2019?
When Office 2016 was released a few years ago, it was identical to its Office 365 counterpart at that point in time, with virtually all the same features and functions. Office 2019, however, is now missing a whole set of features that are only available via an Office 365 subscription.
So what's the message that Microsoft is sending with this distinction? Well, if you want the best Office experience available, you have to move on and subscribe to Office 365.
So if that's the case, why does the offline "on-premises" version of Office still exist? That's because although Microsoft understands that cloud-based applications are the future, some organizations and businesses are still not ready to make that leap.
"For many customers, Office 365 is the way to go. It's the most secure, intelligent and collaborative version of Office." Microsoft wrote in its Office 2019.
"However, going to the cloud is a journey, and our customers may be in different stages of that journey. This includes hybrid and on-premises. To support those customers, we have Office 2019, a valuable new release of Office with a subset of features from Office 365."
This move actually follows trends from other software companies who have shifted their applications to cloud-based subscription services.
For example, Adobe had successfully transitioned users from standalone versions of its popular products (like Photoshop and Premiere) to its subscription-based Creative Cloud service. With how Office 2019 is marketed, it's obvious that Microsoft wants to replicate that success with Office 365.
Is it cheaper to go with 365?
Back in July, Microsoft announced that it will increase the commercial price of Office 2019 by 10%. This means a full shrink-wrapped copy will cost around $225. A one-year, one-computer subscription to Office 365 Personal is $70.
Assuming that the offline version of Office gets updated every three years, subscribing to Office 365 will actually be cheaper, bringing the total cost of ownership down in the long run. Additionally, with 365, you will always get the latest versions of all the Office applications each time.
According to Microsoft's Office 2019 FAQ, here are the Office 365 features that are missing from Office 2019:
Unlocks creativity
Editor in Word
Tap in Word, PowerPoint, and Outlook
Designer in PowerPoint
Researcher in Word
Ideas in Excel
Data Types in Excel
Built for teamwork
Real-time collaboration across Word, Excel, and PowerPoint
@mentions in Word, Excel, and PowerPoint
Integrated for simplicity
Shared computer licensing
Language packs included
FastTrack Options
Intune Integration
Intelligent security
ATP in Word, Excel, PowerPoint, and OneDrive for Business
Office 365 Message Encryption
Office Enterprise Protection
Add sensitivity label in Word, Excel, PowerPoint, and Outlook
What's new with Office 2019, anyway?
If you're still thinking of going offline with Office 2019, here all the improvements of Office 2019 versus Office 2016.
Word
Black theme
Learning tools (captions and audio descriptions)
Speech feature (text-to-speech)
Improved inking functionality
Accessibility improvements
Excel
Funnel charts, 2D maps, and timelines
New Excel functions and connectors
Ability to publish Excel to PowerBI
PowerPivot enhancements
PowerQuery enhancements
PowerPoint
Zoom capabilities for ordering of slides within presentations
Morph transition feature
Ability to insert and manage Icons, SVG, and 3D models
Improved roaming pencil case
Outlook
Updated contact cards
Office 365 Groups
@mentions
Focused inbox
Travel and delivery summary cards

Why not buy products that same function and cheaper?
Sale
GETKEYNOW provides you with 100% Genuine Software and Experienced Staff to help you complete the installation process. We promise that when you buy the product, the Genuine Software will install successfully on your computer and we will refund for you if the software cannot be installed or cannot activate the copyright on your device.
You'll get DIGITAL PRODUCT on your email with a License Key and Link Download from Microsoft  (about 1 to 10 minutes). Please make sure that your email address is correct. If you can't find the email within 10 minute, please contact our customer support at info@getkeynow.com